Chemical execs still mum on executive safety order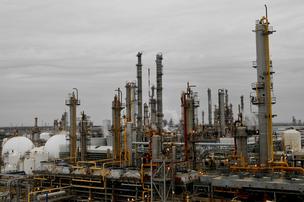 Enlarge
Bloomberg
The federal government and chemical companies will have to hash out the best new regulations for plant safety and security.
Reporter- Houston Business Journal
It's closing in on a week after President Barack Obama issued an executive order designed to improve safety and security at chemical plants. So far, industry response to the order has been surprisingly mute.
The American Chemistry Council, one of the largest chemical industry organizations, has issued a short statement reacting to the Aug. 1 order, while Timothy Scott, The Dow Chemical Co.'s chief security officer, testified, as a representative of the ACC, to the U.S. House of Representatives' Committee on Homeland Security concerning chemical plant safety the same day the executive order was issued. Still, no other major chemical players have responded — and I called multiple Houston-area companies to check.
The president's order was a direct response to the explosion and loss of life at a fertilizer plant in West, Texas. It called for better coordination between federal, state and local agencies monitoring the safety and security of hazardous chemical plants.
The ACC said it supports the order and will work with federal agencies such as the Department of Homeland Security, the Environmental Protection Agency and Department of Labor/Occupational Safety and Health Administration to identify best practices for chemical safety and security.
"We fully support the role of the government in overseeing safety and security through the numerous federal programs in place that regulate the operation of chemical facilities, and we believe that agencies should have the appropriate tools to effectively train is field inspectors, educate the regulated community and enforce existing regulations," ACC said in its statement.
Dow's Scott also stressed that current safety and security regulations in place are necessary, and the industry needs to make sure these regulations are currently being fully implemented.
However, when referring to the explosion in West, Scott described the fertilizer plant as an outlier site, which stores and distributes chemical-related products, but doesn't manufacture them. Scott specifically identified such sites as needing to be more regulated.
Michigan-based Dow, which is the largest U.S.-based chemical producer and has some of its largest operations in the Houston area, is often willing to express its opinions on national issues. For example, the company vehemently opposes uncapped exports of liquefied natural gas.
Perhaps the uncertainty surrounding how regulations might change in the wake of the President's order is the reason why chemical companies have yet to comment publicly. Or, perhaps they could silently be unhappy with the order, as a Bloomberg article suggested. Bloomberg reported that the chemical industry has been trying to halt new regulations related to the use and storage of chemicals for some time.
Molly Ryan covers manufacturing, technology, the Port and logistics for the Houston Business Journal. For her breaking stories and industry insights, follow her on Twitter.


http://www.bizjournals.com/houston/blog/nuts-and-bolts/2013/08/chemical-execs-remain-mum-on-executive.html?page=all